Our Kennel & Puppy Policies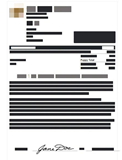 We at do not "pre-screen" our customers but trust and expect all our new puppy customers to provide excellent care and loving homes for them. Over the past years we have met many wonderful people placed a number of puppies in homes across America and have had the assurance that they all went to good homes! If you feel you have done your homework on the costs associated with a new dog, have adequate living or yard space, and some time that you can devote to training and bonding with your new friend you may go ahead and reserve one of our puppies!
Our Deposit Policy
ADVANCE DEPOSITS: *We generally do not take deposits on unborn puppies but prefer to wait until they are around 2-3 weeks old and individually displayed on our website and you can place a deposit then, we sometimes even designate a specific day & time to begin accepting deposits or certain litters that are in demand. We always try to honor reservations on a "first deposit placed, first served" (see more details below) *Special consideration and allowances are sometimes given to our prior customers.

The "PayPal" button will take you to a PayPal page where you can enter your credit card or PayPal information for the deposit as stated and this will be put towards the purchase price.

Once you have completed this transaction PayPal will then email you a receipt of the puppy you reserved. If perchance you make a deposit on a puppy that was already reserved by another person, we will give you the option to pick another puppy or promptly refund your deposit. The balance of your puppy will be due by cash or credit card paid at the time of the puppy pick-up. (see below for pickup details)
Our Pricing Policy
Our pricing is as stated on each puppy's page. We may occasionally offer a discount once they get around 8-9 weeks or older and have not been reserved.
Our Refund Policy
If perchance something should happen to your puppy when you have a deposit placed on it. We would let you pick another available puppy or you can use it to reserve a future puppy on upcoming litters. Or in this case also have it refunded. If however, you default and never pick up your puppy your deposit will then be used to help located a new home for the puppy. We do try to be reasonable and try to make allowances in circumstances beyond your control at our discretion.

After you pick your puppy up we also provide a 72 hours money back guarantee should you not be satisfied your puppy or it was as described by us, providing he or she is returned to our home.
Our Sales Tax Policy
Our requires us to charge and charge sales tax on all our retail puppy sales unless we ship out of state. So please don't forget to include this in your total purchase price if it isn't already.
Our Pickup Policy
Pick-up and arrangements (Preferably Thursday, Fri & Saturday Forenoons) Local pickup is preferred, and we like our puppies picked up when they are around 8 weeks old when they are current with their shots, de-worming & etc. They are almost ready for training then (but you have time up to before the puppy is 10 weeks old before a $2/day boarding fee applies) You will want to come prepared with a few towels, etc for the ride home!
Delivery Options
For a caring and comfortable puppy delivery service right to your home or city closer to you, please call/text: John Higgins at (606) 303-2802 for a quote, or visit our Delivery Page for more information. If you live over a 1,000 miles away you may want to check into getting multiple puppy transportation quotes from other transporters, please Find out more here...
Our Health Warranty
We do try to ensure that you purchase a healthy and happy Puppy that will be up-to-date with it's vaccines and deworming's according to its provided health record. So if in case your puppy is found to have major genetic health issues (such as: hip or elbow dysplasia, patella luxation and cancers such as lymphoma) as diagnosed by a licensed veterinarian with-in 1 year of pickup date. We will exchange your puppy for one of equal value (or refund up to the purchase price) There are however no guarantees against accidents on your part.

After purchase we do recommend that you follow the advice of your local veterinarian, however, If you have any questions please feel free to call or write to us anytime and we will try to assist you in any way possible.
Our Visitation Policy
We do our best to ensure that all our dogs receive appropriate care accordingly, so we would like to limit outside traffic to help minimize the potential of someone unintentionally tracking in diseases (like parvo, giardia, etc) we welcome only those seriously interested in a puppy and that have already placed a deposit (Or former customer) to visit our puppies' parents, please remember it places stress on our mothers to have strangers come in a look at and handle their new-born. Thank you for your understanding!
Additional Policies
Agency Notice: This website is owned and designed by BreederServe to advertise for this Dog Breeder and its puppies, all and any puppy sales are between you and this Dog Breeder alone. BreederServe shall not be held liable should any damages arise from a sale. All content including digital and media assets on this website are copyrighted by BreederServe and protected under the (DMCA)
---